January 26th – January 29th was a great time for basketball in Chuuk, as former professional Coach Tom Newell visited Chuuk along his tour through Oceania in order to promote the sport of basketball and assist in setting a base for future success within the state.
Mr. Tom Newell has a long history of coaching basketball, a skill that has taken him all over the world including time in the National Basketball Association (NBA), Women's National Basketball Association (WNBA), Greece, Japan, China, Korea, Russia, and the list goes on and on. He is now an sports ambassador for the U.S. State Department teaching coaches and players about the game of basketball.
To find out more about him, check out his website: http://www.coachtomnewell.org/
In his time in Chuuk, Coach Newell was incredibly busy making motivational speeches to local students and youth as well as running basketball and coaching clinics to share some of his vast knowledge with the local communities.
Coach Newell ran basketball clinics at:
Penia Sene
Xavier High School
Chuuk High School
Berea High School
College of Micronesia
Saramen Chuuk Academy
He also ran a coaches clinic during the morning at Truk Stop for any local coaches that were interested in attending.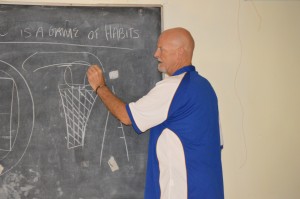 The final way in which he helped establish the grounds for basketball in Chuuk was the creation of the Chuuk Coaches Association which will be responsible for the governing of the sport and local coaches.
Thank you Coach Newell for your visit and assistance in establishing the great sport of basketball here in Chuuk!